Head Coach Radafy Ranaivo
Head Coach and Owner, Rad, teaches and oversees all Self Defense classes personally, including Jiu Jitsu, Muay Thai, Boxing and Competition Class.
Rad also offers one-on-one personal training to help with basic fitness or equip you with many practical life skills through martial arts not taught in a regular class setting.
A former member of the French Foreign Legion (FFL), Rad has trained professional MMA fighters, amateur Muay Thai fighters, national competitors in Taekwondo and Brazilian Jiu Jitsu for over a decade. The discipline instilled in him through his time serving in the FFL and years of martial arts training, benefit you. Whether you want to compete, hope to achieve a healthier lifestyle, increased strength, confidence, and stamina or simply push past your own limits, Rad is committed to getting you there.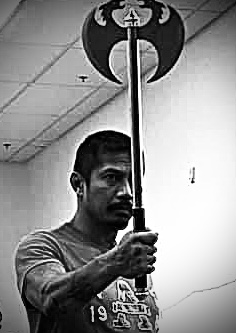 He has designed programs to enhance recreational sport conditioning, serious competition, weight loss, and self-defence. Whatever your goals may be, he will be happy to assist you in meeting them.
374 MMA started small with a big vision. Owner and Head Coach, Radafy Ranaivo (Rad) took his passion for Mixed Martial Arts and created programs and training regimes for all skill levels. He believes martial arts training is beneficial, not only physically, but for our mental health, confidence and discipline. With over 4,500 square feet of training space, multiple classes in a variety of levels and a clientele that feels like family, we are proud to say Rad's "big vision" is now an achievement.
We are committed to providing superior training in Self Defense Komaru Jiu Jitsu, Muay Thai, Boxing, Competition Classes and Wrestling. Along with Conditioning and Body Weight classes, you will not only achieve your goals but eclipse them.
Alex is currently a high school Mathematics and Physics teacher at École Secondaire du Sommet, in french school board in Nova Scotia, where he also started and runs a high school wrestling program. That being said, Alex brings a methodical, scaffolded, step-by-step approach to training. This means that he adjusts his training to include more or less detail, depending on the level of the student with whom he is working.
Having served in the Canadian Forces for several years, Alex is adamant that his students demonstrate dedication, discipline, and most importantly, restraint with the techniques they learn in class.
Being a teacher, he knows too well the damage that can be caused by bullying and see examples of it daily. He tolerates no bullying of any sort. His belief is that students who train in a martial art develop self-pride and self-confidence. These characteristics are important factors in mitigating bullying.
Alex is currently a second degree purple belt in Brazilian Jiu-Jitsu and also trains in boxing, muay thai, and submission grappling. In June of 2018, Alex received the award for "Coach of the Year" for his work in developing and running his school's wrestling program. In January of 2018, Alex received a silver medal in his first submission grappling tournament then followed by a 4th place finish in his first Brazilian Jiu-Jitsu tournament and continues to place in the top 5 in every tournament he enters.
Alex is helping to develop a balanced curriculum of self-defence and competition techniques in order to have a well-rounded student.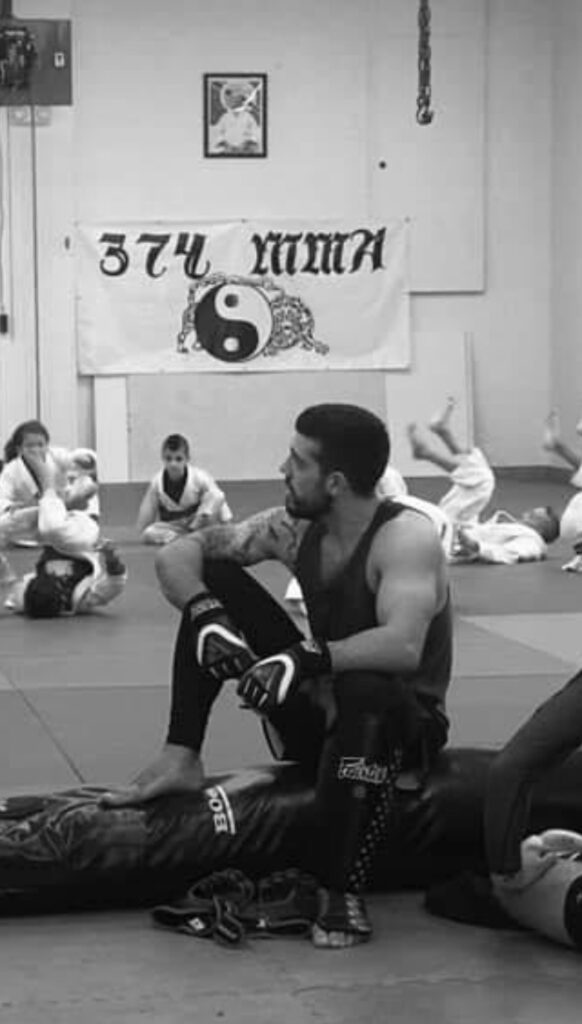 Josh, our strength and functional mobility coach has been born into the world of fitness, being involved in a variety of sports growing up including Track & Field, Soccer, and Basketball. He is currently involved in the world of calisthenics, as well as MMA (Muay Thai, Jujitsu, and Boxing) learning as well as teaching how to move and control our bodies with ease. Starting independently for 2 years, he has inspired many others to develop and maintain healthy and active lifestyles using different methods based on the individual. He uses a unique style of mobility, strength and mindfulness to help people achieve their goals and to move their bodies in ways never before possible! He also offers mobility and HIIT classes designed to be inclusive for all levels of fitness in a fun and exciting environment!
Working with Josh will have you feeling brand new, with a positive mindset both inside and outside of the gym, a feeling of fulfillment and a new found excitement for life! 
Eric has loved martial arts since early childhood and officially started his martial journey with Taekwondo in 1989. He then switch to grappling arts,  Judo  in 1995 (Fujiyama Dojo),  Jiu-Jitsu in 1998,  Sambo in 2006 and has learned  Shoot-Wrestling from multiple sources.
Eric practices a Jiu-Jitsu considered simple, but eclectic and unorthodox and has been instructing on a regular basis since 2003.
The creation of Eric's Komaru Jiu Jitsu evolved from many roots including Brazilian jiu-jitsu which was born from the introduction of young Carlos Gracie to Mitsuyo Maeda (aka Conde Koma Maeda) who travelled to Brazil to test and spread the new art of Judo.
Over a decade, during his multiple travels around the world, Carlos Gracie fought in many discipline such as Judo, Wrestling, Catch-Wrestling and No-Holds-Barred.  Carlos learned a lot from these experiences as he explained in his letters to the Kodokan (Judo HQ in Japan).
In 1914 he ended up back in Brazil to help with Japanese immigration.  There he started teaching his "recipe" for fighting, which was simple; avoid the strikes, but integrated the clinch, takedown, and how to submit the opponent on the ground with any hold available. He opened the first Judo club in Brazil, still in operation today. Carlos Gracie took lessons from Maeda, and some of his assistants.
He then proceeded to teach his brothers (George and Helio), and together created "Gracie Jiu-Jitsu" (the terms Judo and Jiu Jitsu were interchangeable at that time because Judo had been a fairly new defense system).
The Gracies fought all comers in no-hold-barred matches, using the Maeda Method, with great success.
That is what became to be known as Brazilian Jiu-Jitsu.
If you'd like to learn more, see the following: https://www.bjjheroes.com/bjj-fighters/carlos-gracie-sr-profile
Over the years, BJJ became mostly a sport, and therefore, a lot of techniques were ignored or removed for safe competition purposes.
Even though Eric found BJJ the most versatile base and platform to create a fighting method, he took the basics of BJJ, Judo, Sambo, Shoot-Wrestling and his own humble innovations and called it Komaru Jiujitsu in honour of the root of all, Maeda's hybrid judo fighting system ("Komaru" is where Conde Koma's nickname comes from; it means Trouble in Japanese, so "Count of Trouble").
He does indeed think that the Gracies had only a partial answer to the fighting equation (namely because Carlos Gracie studied the art for a very short time) and that rejecting the other grappling arts was a big mistake.
In the 70's, the late Rolls Gracie rebuilt the bridge between grappling arts and studied and competed in all of the above mentioned, integrating it in his family jiujitsu and creating modern BJJ.
Eric still uses the BJJ belt system because he believes it's the most meaningful grade system. 
He calls Komaru Jiu Jitsu simply because that's what it is. And, yes, people he ranks are ranked in BJJ, but with an enriched curriculum based on concepts and angles.
Eric's Qualifications
Certified Judo Black Belt (Judo Canada)
First degree Black Belt in Brazilian Jiu-Jitsu

 

(Machado Jiujitsu lineage) and assistant-instructor at Longueuil

 

Outros Caras

 

jiujitsu Club for 10 years.
Affilied with S.A.W. (Submission Arts Wrestling)

 

and ranked « Shodan-Ho » in this form of

 

Shoot-Wrestling (Japanese Catch Wrestling).
Combat Sambo Level

 

2

 

(Canadian Combat Sambo Federation) , and former official representative

 

(Dissolved Federation).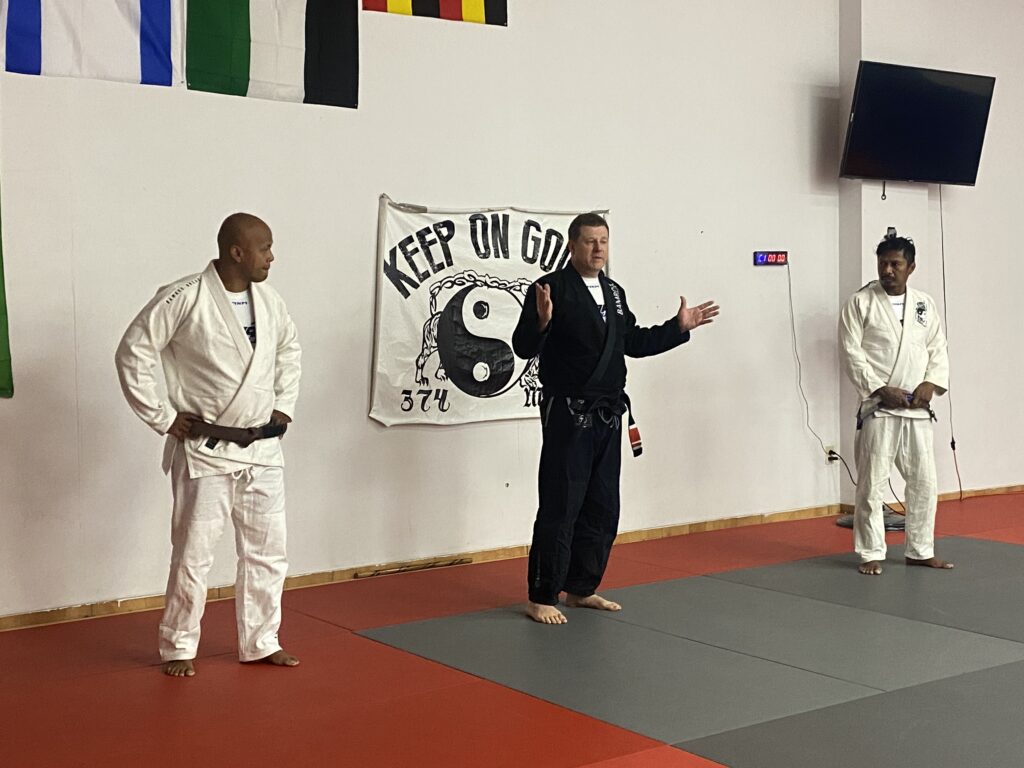 We offer something special
At 374 MMA, you'll receive a top-quality and unique educational experience.  Whether you need to learn the basics, or already have years of experience, our school offers the space and knowledge necessary for you to not only reach, but exceed your goals. Explore the site to see what makes us so unique and successful.
1-on-1 Attention for Everyone
Experience the Difference
Professional Martial Arts School
4,500 sqft exclusively to suit your needs